Antony Bowie (RJO 410)
Site ID
026
Owner
Antony Bowie
Model
DB2.6 SLN
Registration
RJO 410
Year
1951
Engine No.
LB6A/50/433
Engine Size
2.6
Chassis No.
LAG/50/
Body Type
Saloon
Date Added
13-02-2007
Last Updated
20-12-2011
Notes:
RJO 410 has been in the Bowie family since 1961 and is in original condition having never been restored but in the early 1960's had an engine change.
Mr Bowie senior still enjoyed trips out in his favourite car into his 90's.
* Permission to use these photos has been granted by Antony Bowie.


Mr. Bowie senior as proud owner in a quiet London suburban street in the early 1960's.

Lagonda 'on holiday' in Scotland in 1963.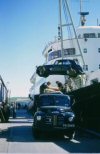 RJO 410 coming off the ferry (SS St Clair - affectionately known as the Sinking Clair) in Lerwick, Shetland in about
1961/2.

RJO 410 doing wedding service for the daughter of a neighbour.
Lagonda Centenary at Brooklands.

Lagonda in the snow.